The Rundown:
As the event industry has entered into uncharted territory during these uncertain times it has become apparent that many events especially those being run by volunteers and small staff needed some guidance as to what to expect and how to handle issues that are arising from cancellations and postponements due to COVID-19.  After being asked to appear on several event association webinars Ryan Kintz from ,Afton Tickets, Michael Bleau from ,Event Hub, and Teresa Stas from ,Green Cactus Event Sponsorships are working together to help other live events by sharing our first hand knowledge of dealing with the COVID-19 crisis and the feedback we are getting from our clients and other events across the country.
We are offering to host a totally free 45-60 min webinar for your group or association that offers information and advice on the topics of Sponsorship, Ticketing and Vendors. It's our way of giving back to our industry at its most vulnerable time. We've conducted webinars for the Oregon Festival and Events Association, California Festival and Events Association, Colorado Festival and Events Association, South Carolina Festival and Events Association, Florida Festival and Events Association, among many others! We will provide you with all the tools you will need to help market this webinar to your membership base including providing you with some strategies on how to leverage this webinar to gain more members!
---

Feedback from one of our recent attendees!
---
Signup Your Live Events Organization or Association
Our fully hosted and customized free 45-60 minute webinar for your group or association will offer information and advice for your event organizers and event vendors to help make it through the corona virus crisis.
Topics will include:
How to handle Sponsorships during this uncertain time.
How brands are dealing with their event sponsorships and what it means for you.
Correct messaging for ticket holders, vendors, sponsors, etc. to prevent a negative social media backlash.
How to handle canceling or postponing events.
Refund policy.
Incentivizing customers to keep their tickets for next year's event vs. demanding a refund.
Strategies to financially survive a decrease in revenues due to COVID-19.
And more!
---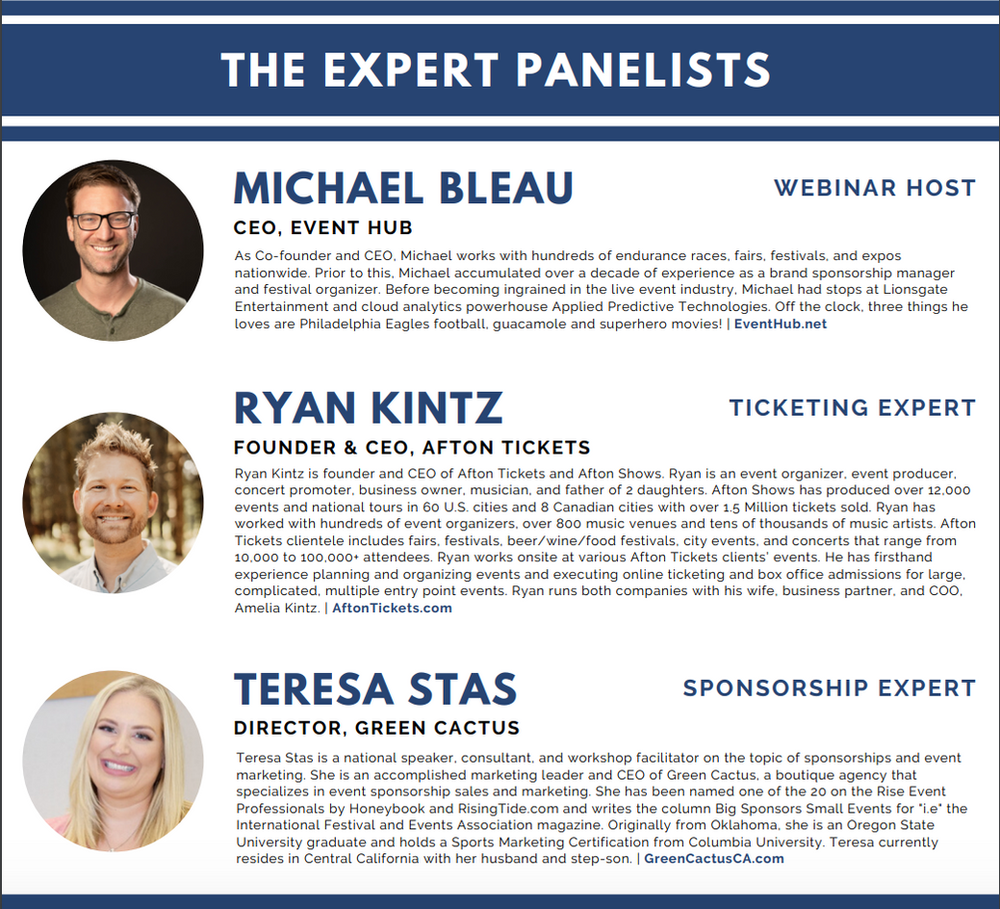 ---
How to SIGN UP for our Webinar: For Festival Organizations & Associations with a membership following, Contact Green Cactus at [email protected] to schedule a special expert webinar panel specifically for your association members.
Please include the following in your email:
Contact info
Include Two or Three dates and times that would work for your organization (we are finding that Tues-Thursday at around 10am or 11am seem to work best)
We encourage you to include one or two of your own experts on the panel. Such as an event who has had to cancel or postpone, a legal or insurance expert to round out your webinar. If you have suggestions of people to include please also include them in the email as well.
As soon as we get your email someone will get back to you within 24 hours.
We are doing our best to accommodate every organization's schedule. But available slots are filling up quickly. Please contact us to learn more.