The Easy To Follow Practical Guide To Getting Sponsors
Whether you have a long-standing, well-known event, or you're just getting started, Sell Your Event! The Easy to Follow Practical Guide to Getting Sponsors will give you the necessary tools and tips to generate strong sponsorship support! From finding and approaching the right prospects for your event, to building loyal sponsors that return year after year, this book provides real-world guidance and insights on how to maximize your event-sponsor partnership.
Based on first-hand sponsorship sales experience, Sell Your Event! The Easy to Follow Practical Guide to Getting Sponsors is filled with sharp practical knowledge from working with actual events and sponsorship successes (and a few mistakes). Throughout the book, you'll find guidance and proven examples of what works: sales scripts, sponsorship decks, finding decision makers, creative activations, sponsor recaps, and more. Author Teresa Stas takes you through the sponsorship sales and management process from beginning to end, helping you not only attract sponsors for your event, but keep them coming back.
"Finally a book that hits that big gap between soliciting donations and raising hundreds of thousands for a mega-event! This book should be required reading for anyone serious about sponsorships but doesn't know how to get started."
"Teresa makes the daunting task of selling sponsorships for events easy in this book! She gives the reader a play-by-play approach and excellent examples of what works, what could go wrong, and even, what NOT to do. Her industry experience shines through and helps those who are new to the sponsorship game become successful."
"This book is a true testament to the incredible depth and breadth of knowledge that Teresa has on the topic of sponsorship. She helps the reader understand the components of the sponsorship recruitment and retention process and shares best practices that anyone can implement."
Sell Your Event! The Easy To Follow Practical Guide To Getting Sponsors has a new best friend, meet the companion workbook!
The companion workbook will complement your reading by providing you with 110 pages packed with 11 templates, 4 checklists, 3 worksheets, 6 guides, and 4 additional downloads. If you want to make the work of sponsorships easier this workbook is for you! This digital download will allow you access to the checklists, templates, guides and more to help you sell sponsorships!
The workbook is complementary, but not required, to the Sell Your Event! Book. You don't need the workbook to understand the concepts and information provided in the book, however the companion workbook will make your life easier by doing some of the work for you!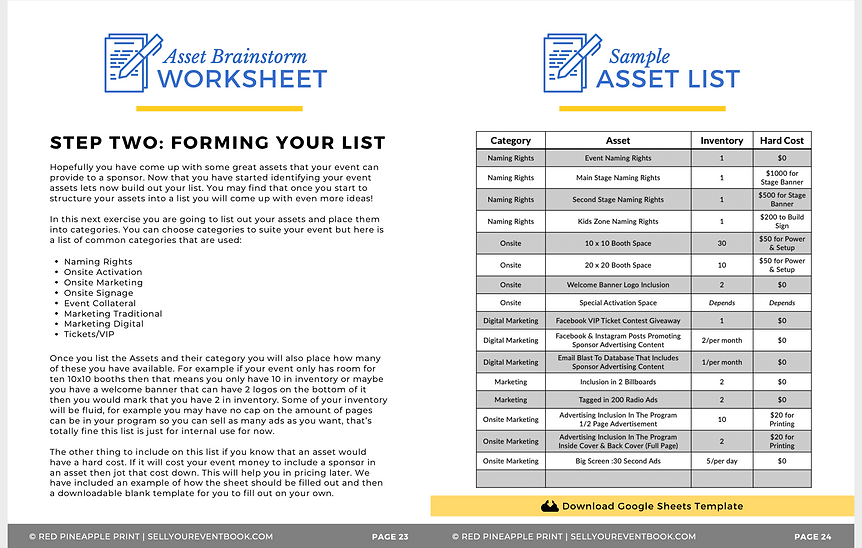 What templates are included?
Shot List Example and Template
Asset List Example and Template
General Audience Data Survey
Advanced Audience Data Survey
Intro Deck Example and Template
Prospect Email Template and Example
Sponsorship Proposal Template
Sponsorship Agreement Template
Due Date List Template
Asset Database Template
Recap Example and Template
What checklists are included?
Details Checklist

Before you Call Checklist

Agreement Inclusion Checklist

Onboarding Checklist
What guides are included?
Terminology Guide
Sponsorship Process Guide
Incorporating Sponsors into Digital Marketing Guide
Creating an Intro Deck Guide
Prospecting Brainstorm Guide
Tools for Virtual Events and Building a Community Guide
What worksheets are included?
Simple Media Plan Worksheet

Asset Brainstorm Worksheet

Who is My Event Patron? Worksheet
What additional downloads are included?
Sponsor Follow Up Tracker
Activity Log
Prospect Proposal Questionnaire
Sponsor Debrief Questionnaire
Where can I buy a physical copy of the companion workook?
Right now, the only way to purchase a physical copy of the companion workbook is through the "Sell Your Event! Bundle Pack" or during one of Teresa's in-person sessions at conference.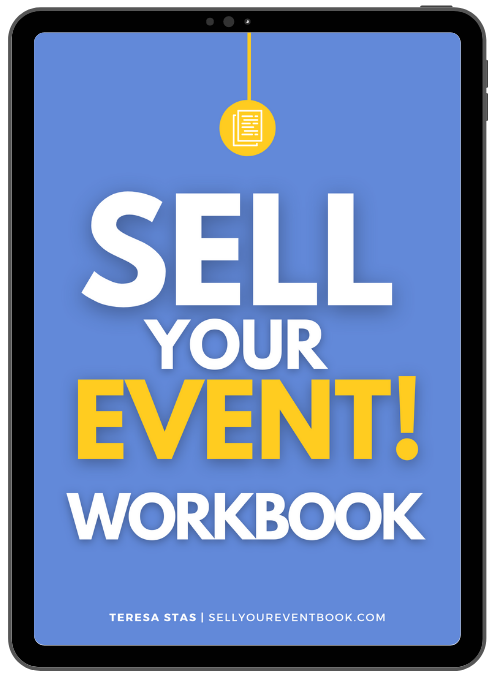 "There is an abundance of knowledge and information that can be gained by reading about Teresa and her team's strategy towards sponsorships and activations."
"This book is a must have for every event, whether you're a community event with 2,000 attendees or a large festival with 100,000+ attendees. What you will learn in this book is going to payoff year after year, and elevate the success of your future events."
"Teresa understands sponsorships through the lens of the brand - strategic activation and attendee experience creation - on a level that few people grasp on the sponsor sales side of the industry. She's been able to distill that understanding into a concise set of core concepts and lessons within this book is even more impressive."
"Sell Your Event!" Bundle Pack
Sell Your Event! Bundle Pack Includes:
*Due to complicated logistics regarding digital products, you will be unable to immediately download the digital copy of the book at time of bundle purchase. Instead, a promo code listed within the workbook will allow you to download the digital copy once you have received the delivery of the physical bundle. We apologize for this inconvenience.
Please Note: Due to the digital nature of the companion workbook, we DO NOT offer refunds or returns of this product for any reason. For all other purchases (paperback and e-book) please see your original point of purchase.
Teresa Stas is a national speaker, author, and CEO of Green Cactus, an event sponsorship and marketing agency. She has brokered millions of dollars in sponsorships for her event clients working with local, regional and national brands. She currently handles partnerships for several events along the west coast such as the national relay Hood to Coast, the Oregon State Fair, Country Fan Fest, and many others. She is the author of the book "Sell Your Event! The Easy to Follow Practical Guide to Getting Sponsors" and writes the column "Small Event, Big Sponsors" for IFEA's "ie" magazine, and her online course SellSponsorships.com has been used in university course work and by event professionals nationwide.